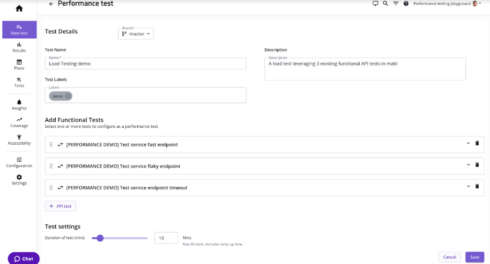 Low-code intelligence automation company mabl today announced its new load testing offering geared at allowing engineering teams to assess how their application will perform under production load.
This capability integrates into mabl's SaaS platform so that users can enhance the value of existing functional tests, move performance testing to an earlier phase of the development lifecycle, and cut down on infrastructure and operations costs.
"The primary goal is to help customers test application changes under production load before they release them so that they can detect any new bottlenecks or things that they would have experienced as the changes hit production before release," said Dan Belcher, co-founder of mabl.
According to the company, these API load testing capabilities allow for the unification of functional and non-functional testing by utilizing functional API tests for performance and importing Postman Collections to cut down on the time it takes to create tests. 
Mabl also stated that this performance testing lowers the barrier to a sustainable and collaborative performance testing practice, even for teams that do not have dedicated performance testers or specific performance testing tools. 
"Anyone within the software team can use it, so it is not limited to just the software developers or just the performance experts," Belcher said. "Because we're low-code and already handling the functional testing, it makes it super easy for the teams to be able to define and execute performance tests on their own without required specialized skills."
Furthermore, these tests can also be configured to run alongside functional tests on demand, on a schedule, or as a part of CI/CD pipelines.