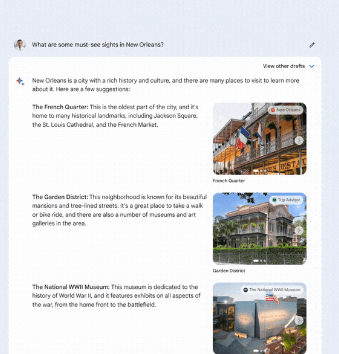 Earlier this year, Google announced Bard, a generative AI solution meant to compete with OpenAI's ChatGPT. Previously the only way to use Bard was to get on the waitlist, but now the company is announcing that it is removing that waitlist and opening Bard up to all.
With this announcement, Bard will be available in 180 countries and territories, and more will be added. 
Google also revealed that Bard now supports Japanese and Korean. Soon it will support 40 different languages.
RELATED CONTENT: Google announces updates to Android, Google Cloud, Workspaces, Google Play, and more at Google I/O
Since its initial launch, Google has also made some improvements to Bard, such as changing the large language model (LLM) to PaLM 2, which enables Bard to have more advanced math, reasoning, and coding skills. 
An upcoming update will add visuals to Bard. For example, the prompt "What are some must-see sights in New Orleans?" will provide images along with text. 
In addition to responses containing images, prompts will also be able to use images, with Google Lens being used to analyze photos. For example, you could upload a photo of your dog and ask Bard to write a funny caption for it, and it will analyze the photo, detect your dog's breed, and write a few captions. 
Google will also be improving on the coding side of Bard, with new features like better citations that can be clicked through to see the source, dark mode, and an export button so that code can be run in Replit. 
It is also adding an export function to Gmail and Google Docs. "For example, let's say — like me — you're a die-hard pickleball fan. You can ask Bard to write an email invitation for your new pickleball league, summarizing the rules of the game and highlighting its inclusivity of all ages and levels. Just click the 'draft in Gmail' button so you can make those final tweaks before getting your pickleball league off the ground," Sissie Hsiao, vice president and general manager for Google Assistant and Bard, wrote in a blog post. 
In the next few months, Google also has planned integrations with Adobe's suite of products. It will integrate with Adobe Firefly, which is a set of generative AI models for image creation, and the results can be exported to Adobe Express. Other upcoming partners include Kayak, OpenTable, ZipRecruiter, Instacart, Wolfram, and Khan Academy.
"There's a lot ahead for Bard — connecting tools from Google and amazing services across the web, to help you do and create anything you can imagine, through a fluid collaboration with our most capable large language models," Hsaio wrote.